April 1, 2010
For this is a question where the answer can make or break a business. Marble chose Polar Design to create a custom ecommerce site along with a tailored online marketing campaign, including PPC campaign optimization and Search Engine Optimization and immediately realized double digit growth in sales. The carefully crafted campaign and custom web site cost more than other solutions, but delivered a return on investment (ROI) that exceeded what the company would have earned.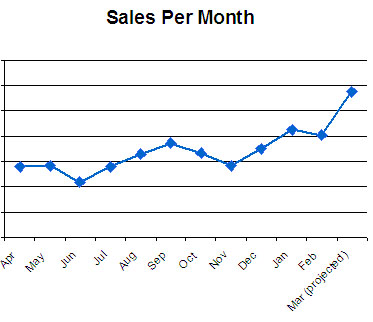 Marble's earlier website based on a well-known, out of the box e-commerce platform, featured a design and shopping cart that had been force fit to the software and not fit to the client's audience. As a result the site manifested a high bounce rate of 68%, and a low conversion rate of only 1.1%. In addition Marble had a high cost per customer due to its unoptimized pay-per-click campaign. Ultimately, all of this meant the company experienced flagging sales and needed to do something to turn it around.
The client brought Polar Design in to build a custom solution to address these and other problems. First Polar designed a custom website for the company that was built on its InsightBuilder® ECOM e-commerce platform. The software platform allows companies to implement virtually any design or layout, and the code itself is lightweight and efficient, leading to faster page load times and cart processing. Polar also implemented a search engine optimization plan, using a variety of techniques and optimized the company's PPC campaign through a program of campaign testing and continual improvement described in its case study titled SEO and PPC Results Compared.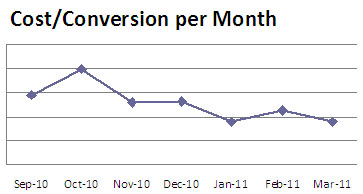 The results speak for themselves: since November, 2010 Marble experienced a 27% increase in sales per month, and it is projected that by the end of March they will have seen up to a 70% increase in monthly sales. The web site bounce rate dropped to 46.19% while the conversion nearly tripled, both of which drove the sales increase. The company now has a much higher organic placement in search engine results and is on the first page for many keywords. These improvements as well as PPC campaign improvements reduced the cost per customer by 24%. Based on these results the site is on track to realize a 57% ROI.
Companies are finding that the cost efficient allure of templated websites may not be as beneficial as they seem. An out of the box web design seemed like a great idea for Marble & Granite Care Products to revamp its site and spur its flat sales to rise. However, the opposite happened. After choosing a templated web design, to be cost efficient, the company experienced falling sales instead of the rising sales they had hoped for. Luckily, the custom solution they chose to replace it with has proven worth the investment and continues to be.