MassBigData Website Wins at the 12th Annual Horizon Interactive Awards Competition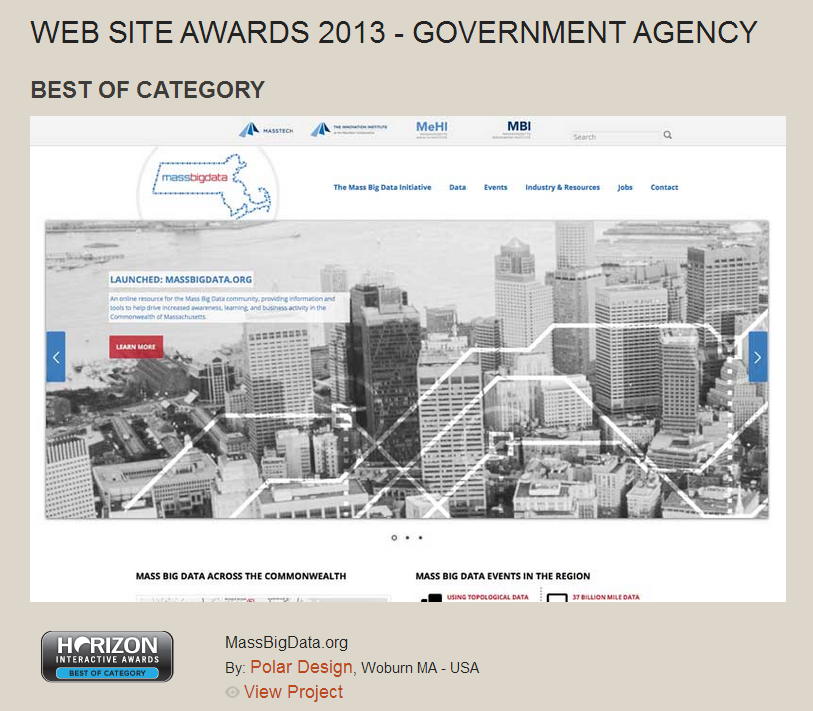 Boston, ) that connects Big Data innovators in the Commonwealth of Massachusetts has earned a prestigious Best of Category award for Government Web Sites in Horizon Interactive's 2013 international award competition. The annual award, which attracted over 1600 entries this year, recognizes excellence in web sites and mobile applications created by leading corporations, government agencies and top digital marketing firms.
MassBigData.org is an initiative of the Massachusetts Technology Collaborative. Developed with Polar Design (www.polardesign.com) and Gopi Bala LLC, the website connects employers, startups, researchers, media and job seekers in the rapidly growing field of Big Data analytics and research using advanced interactive features, including: an interactive map of Big Data organizations; a Twitter Big Data visualization; a Massachusetts Big Data jobs board; a unique events calendar; and many other features.
"The goal of the Mass Big Data Initiative is to drive growth in the regional big data ecosystem and one of the ways we do that is by raising awareness of the Commonwealth's leadership in the expanding fields of big data, open data, and analytics," stated Pat Larkin, Director of the Innovation Institute at MassTech. "Through projects like the Mass Big Data web portal, we can help bring attention on this important sector, drive innovative collaborations, and grow big data jobs across Massachusetts."
"Polar Design is honored to have received one of the highest Horizon Interactive awards for 2013, a Best of Category in Government Agency Web Sites," stated Mark Jaklovsky, Managing Director and Co-Founder of Polar Design. "The site combines today's most advanced technologies, including a framework based content management solution, social media connectivity, and a clean and responsive design in order to successfully orient visitors toward Massachusetts' Big Data resources that have relevance to them. With its consistent, strong visitor growth, the MassBigData.org website will continue to deliver tangible benefits to the State's strategy of positioning Massachusetts as a leader in Big Data."
"The 2013 competition is undoubtedly one of the best showcases of outstanding interactive media in our long competition history," said Mike Sauce, Founder of the Horizon Interactive Awards. "The continued trend of the convergence of multiple forms of digital media into a single interactive experience has yielded a new level of interactivity with technology and blended artistry."
The MassBigData.org web site is dynamic, growing community for Big Data professionals featuring fresh, daily content obtained from social media integrations, feeds, as well as curated events and reports. Visit www.massbigdata.org and dive into Massachusetts' Big Data landscape today!
About Polar Design
Polar Design (www.polardesign.com) is a full-service interactive agency founded in 1999 to crystallize communications. Headquartered in the Boston metro area, Polar Designs' team of local, national and international collaborators deliver best of breed software development, award winning graphic design, insightful digital marketing strategy and execution. Current and past clients include midsized and Fortune 500 companies, web and mobile startups, Taft-Hartley funds and government agencies. Polar Design prides itself in delivering tangible success for its clients by aligning our recommendations with their vision, and designing solutions to meet key performance objectives.
About the Horizon Interactive Awards
In its 12th year, the Horizon Interactive Awards was created to recognize excellence in interactive media production worldwide. Since 2001, the competition has received tens of thousands of entries from countries around the world and nearly all 50 U.S. States. Each year, those entries are narrowed down to the "best of the best" to be recognized and promoted on an international stage. The judging process involves a Horizon Interactive Awards advisory panel, end user panel and a worldwide panel of judges consisting of industry professionals. Winning entries are dubbed the "best of the best" in the interactive media industry.
FOR PRESS INFORMATION, CONTACT
Mark J. Jaklovsky
Managing Director
Polar Design
(781)404-4000
pr@polardesign.com