For those of you who aren't familiar with it, Lupoli Companies started when Salvatore Lupoli opened his first pizza shop, Sal's Pizza, in 1990. From there, Sal expanded his pizza business and eventually opened a successful full-service restaurant, Salvatore's. These two brands have grown over the years and formed the base of Lupoli Companies, strengthened by Sal's work ethic, as well as his focus on community involvement, entrepreneurship, and innovation. His success within the hospitality industry allowed Sal to pursue new ventures in real estate under the Lupoli umbrella where he's found he can inject his unique experience, process, entrepreneurialism and energy to achieve similar successes as with Sal's pizza. These projects include a medical building in Andover, the Hampton Beach Casino Complex in New Hampshire, and one of the subjects of this case study, Riverwalk Properties. With these assets, Sal has been able to stimulate job creation and economic development.
As a result of these successes, Lupoli Companies' portfolio expanded rapidly, with each brand managed by disparate teams that interpreted Sal's core values and vision in their own way. The overall brands became disorganized and fragmented. Even though the Lupoli core values were applied across the different teams, those values are not communicated effectively to the casual observer who might experience each brand. Gerry-Lynn Darcy, a successful real estate professional, joined Lupoli to take charge of Riverwalk's leasing and development. She realized how this disjointed branding was impacting the company and wanted to take action.
Gerry-Lynn knew the brands needed to be modern, professional, and most importantly, consistent. Executing the details of that vision required a firm that not only possesses a modern design aesthetic, but also understands the dynamics of larger organizations that have grown in this way. This includes knowing how to incorporate legacy design elements into the new brand to provide continuity while bringing fresh, creative perspective to the brand.
Polar Design was pleased to partner with Gerry-Lynn and Lupoli to explore exactly what values and brand characteristics exist at the core of the umbrella company, Lupoli Companies, that apply to its subsidiaries such as Riverwalk Properties. Working with the Lupoli marketing team and engaging it through our discovery and brand documentation process, Polar Design identified common, core elements, and developed a brand and design document to express how those elements should influence aspects of Lupoli's design. The document provided clear standards for a consistent new image while providing flexibility in each individual division's design elements such as colors, font choice, layouts, and other elements.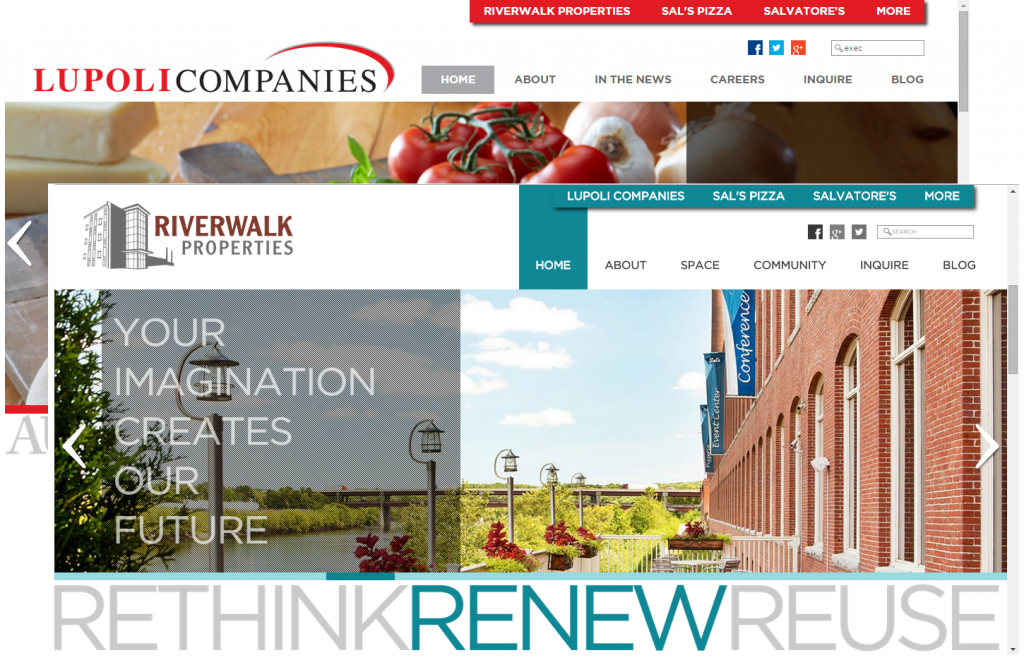 For example, all new sub sites possess a common header and footer style that connects the sites, brands them together as "Lupoli" divisions, and provides easy linkage between all of the Lupoli Companies websites. Nevertheless, each site can communicate in its own way by varying the colors of the header and footer. At least a half dozen other design elements, such as rich photography, screen-filling horizontal layouts, and the responsiveness of the sites which scale to any monitor size carry forward a consistently modern image across all sites while providing room for individuality through color, layout, font choice and other elements.
Lupoli
Each website had challenges specific to their company's goals. For Lupoli Companies, they needed to create an appealing site that showed the values of the main company while also bringing attention to their subsidiaries. Their core values of work ethic, bold innovation, community involvement, job creation, and entrepreneurship needed to be highlighted. They wanted this website not only to be informative, but also to encourage action from site visitors, including submitting inquiries and visiting the children sites.
In order to highlight the core values, we created a website with bold colors and prominent calls to action. The home page features unique design elements, while the news page serves as a hub of information for all of the Lupoli brands. Site users can easily find information about the companies' community involvement, awards won, and new ventures. Community and entrepreneurship are reinforced through video widgets that are interspersed throughout the site.
Riverwalk
Being located in a historic mill building offers Riverwalk an opportunity to attract tenants with its location and loft-like layout. Another point of attraction is Lupoli's active management and construction arms, which have executed eye-catching renovations and facility improvements that contribute to Riverwalk as a "business campus". In order to make this an important part of their website, the site was designed to show high quality photographs of the spaces in a refreshing, highly visual layout. One way we did this was by creating an amenities page that includes photos of the various campus offerings, as well as text explaining each item.

We also created a featured spaces page that allows site visitors to see the variety of spaces available for lease, including retail, office, and medical. The Find Your Space widget form allows quick access to the inquiry page with the person's indicated preferences auto filled, speeding up the submission process. Lastly, an events page and a tenant portal strengthen the sense of community across the campus.
Both the Lupoli and Riverwalk websites were created using best practices for responsive design. This means that users can view and navigate the sites on desktop, mobile, and tablet easily. The SilverStripe CMS platform was also used on both sites, allowing for quick and easy updates to the site. These features make joint branding easier, as an admin can easily make updates across sites to ensure continuity.
Marketing Objectives
Re-branding Lupoli and Riverwalk was an important objective of Polar Design's engagement with the two companies and the focus on this case study. Nevertheless, no project such as this makes sense to an organization if it doesn't also deliver an ROI. For Riverwalk, this means accelerating its leasing sales pipeline and increasing inbound leads from the web site. Polar Design planned for success in these objectives with a clean, attractive design, easy to find calls to action related to the page where they exist, interactivity, and a strong Search Engine Optimization (SEO) plan to attract visitors interested in leasing.
Google Analytics & SEO


As the Riverwalk website's search engine traffic growth in the chart above shows, simply launching a web site with improved on-page SEO has a significant impact on visitor traffic, which in turn translates into more leasing inquiries. Generally speaking, a website redesign can improve its SEO by encouraging more inbound links as well as making it easier for search engine spiders to properly index content in conjunction with desirable search terms. The growth here reflects just the first few weeks after launch. We will post an update in Spring 2015 on our marketing blog, so check back again for the link!