Have you ever wanted to create your own fabric? Maybe you have a favorite design you'd love to see as a pattern, a new mass customization ecommerce website developed by Polar Design.
Green Park Studios is a print-you-own-fabric online store and designer community, Polar Design built that shows an image preview of the fabric in addition to buttons and dropdowns to edit the customizable features. For example, as a user slides the scale, the image scales as well – allowing users to see precisely what they are ordering.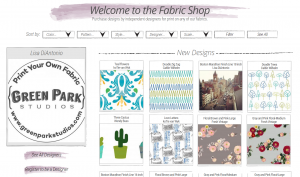 One unique element of Green Park Studios is the designer community. Any users can register as a designer and upload their designs for sale, earning a 20% commission with each purchase. This encourages designers to tell their friends about the website and generate inexpensive, high-ROI referral traffic, which is always helpful for a new company. The fabric store, pictured left, shows the designs uploaded by designers available for purchase. When selected, they load into the configurator, allowing the user to customize fabric type and yards desired.
Green Park Studios is competitive on price and delivery time, which is due in part to the high-quality digital printer Lisa owns and operates. In order to assist with keeping turnaround time low, the orders need to be saved in a way that translates easily from the website CMS to the printer. Polar Design developed extensive image processing capabilities as part of the configurator to convert uploaded photos and images into print ready images, which allows for quick file transferring from the CMS to the digital printer.
Polar Design is an indispensable partner for mass customization e-commerce websites.  We have five years of experience creating mass customized e-commerce sites from our first configurator site, Paddock Way, to the more recent My Chocolate Coins. As a small private held technology company, our leadership views each engagement as a partnership.  We regularly foray into new technologies to ensure our configurators remain state of the art – in Green Park Studio's case, this meant two things: developing our first iOs compatible HTML5 configurator and developing a state of the art solution to process images, ensure fast loading, and store them for quick access.  Our virtualized hosting infrastructure, which is flexible and scalable, ensures that we can grow as Green Park's needs grow.
We look forward to a continued partnership with Lisa and Green Park Studios and are excited to watch her business grow!