This blog post is one part in a series. Click to see the other posts related to the benefits of content management solutions.
You've decided that your website needs a better maintenance plan: a content management solution. Great! But, where do you start? When integrating a website with a content management solution, one of the the first steps is to identify the types of page templates that will be needed.
Content Management Solutions Page Templates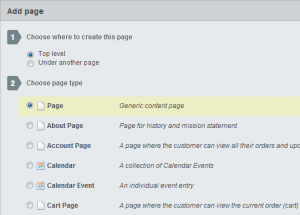 Templates are pre-defined page layouts based on content and desired functionality for a page. Obviously, a homepage will most times be its own unique template with a specific layout and, at times, with special functionality not seen on subpages (like a homepage slider carousel). Then, next comes identifying subpage templates, which may include some of the following:
Contact Page – might include a map and contact form
About Us Page – might include mission statement, history of company, photos of office and company too
Blog Post Page – would include blog post content, imagery, and social integration for optimal sharing
Blog Holder Page – would be the "homepage" for a blog, listing out all blog entries chronologically
Search Results Page – would list results from a search a user performs on your website
If you have an online store, then you'd need templates for the basic Store or Product Search Results Page, Individual Product Page with additional information and a button to add product to cart, Shopping Cart Page to see all products added, a Payment page, an Account page to see order history and shipping status, and a Thank You/Receipt page, at least.
With the use of a CMS though, you can create as many templates as you want, and even with a finite number of templates (for example, average site might only have 10-12 templates) a website administrator could then create 100s or 1000s of pages based of certain templates. This puts the control of page creation in the hands of non-technical people! No longer would you need to depend on expert programmers to help create pages, products, galleries, events, forms, etc when needed. Instead, if a user knows how to type a Word document, then a user will know how to create a new page in a CMS! This allows any staff member to dynamically create content at will to keep your website fresh and up to date, important factors if you hope to have your website ranked well in Google's search engine results.
Next up in this content management solution blog series we'll cover more specific modules that many clients find valuable not only to a website's functionality, but more importantly to a website administrator's ease of use. Tune back in the next few days to see our next blog post and the first module to discuss: implementing carousel sliders on websites.